Carolina Clowns Inc.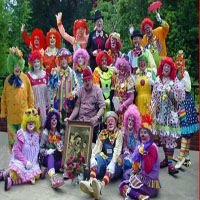 The Story of Carolina Clowns
Carolina Clowns Inc. celebrates 56 years of service to Charlotte NC, and the surrounding communities in 2013. Its members are proud to have participated in the Festival in the Park every year since 1964.

This organization is a charitable, nonprofit group of volunteers who are coming together to put on red noses, funny shoes, grease paint and costumes and to unselfishly give of themselves. Each clown develops his or her own character, make-up and costume and is responsible for his or her own expenses, including travel expenses to and from appearances. Its clowns often attend educational seminars in order to learn how to perform magic, create balloon animals, face paint, and learn new skits.