Kreative Entertainers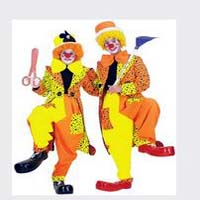 Child and Adult entertainers
Would it be fantastic if you invited your kid's favorite movie or TV look-a-likes to his/her party? Kreative entertainers have costumed characters and clowns, balloon artists, party games, silly magic....the choices are endless. They have been in business for 13 years, they love kids, and they serve all of Durham, Wake and Chatham counties NC.

Lately they have added a delivery fee to all inflatable and entertainment parties, due to the increasing price of fuel; it will based on the party location. They hope to be able to drop this fee in the near future. Their rate for the clowns are as follows: 1 hour is $125, price includes magic show, face painting and balloon art. It costs $25 for each additional 1/2 hour.