Benjamin B Floral Design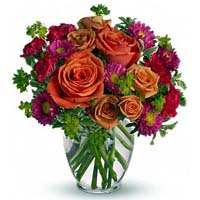 They guarantee their work 100 percent
Benjamin B Floral Design serves the following areas: Cary, R.T.P. and the whole Raleigh area NC (Research Triangle Park). In order to help them assure on-time delivery during busy holiday season, please place your order at least one day before major holidays. A delivery fee of $10.00 will be charged to each order, while for deliveries outside the local delivery area of the shop, this fee may vary. They always prefer to have a second choice to each order for delivery. Benjamin B Floral Design guarantees its work 100 percent. Closest florist to Rex Hospital.

The shop is open from 9:00 a.m. to 5:00 p.m., Monday - Friday. It is closed on Saturdays and Sundays.