Capital Cabaret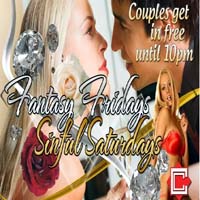 Welcome to Raleigh's Finest Men's Club!
The Most Luxurious Men's Club and Amenities in Raleigh NC, Capital Cabaret is no doubt the most comfortable and opulent adult entertainment venue in Raleigh. It was conceived from a vision that the greater Raleigh/ Durham area needed an exciting new men's club.

Capital Cabaret is now offering $10 table side dances and daily VIP dance specials! Admission for people 21 and up is only $10. Admission for customers 18-20 is $30. Capital Cabaret's staff wants to create an environment filled with southern hospitality with a strong crew of beautiful women. They also have entertainers coming from the nearby stages in order to grace their stages. Enjoy dining at Capital Cabaret. Let them host your next party!