Coconut Charlie's Bump'N Bounce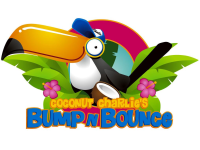 Welcome to Coconut Charlie's Bump'n Bounce!
Coconut Charlie's Bump'n Bounce is Raleigh's newest indoor play place for kids! Come on over to Coconut Charlie's Bump'n Bounce, we would love to see you! Our Open Play takes place everyday during regular business hours. Once you get here feel free to spend the day. Our bump'n bounce arena has inflatable slides, bouncys, an obstacle course, large "soft" playground and craft room! We also have a toddler area where the little ones can feel safe from the "big kids."

Parents... we didn't forget you! Enjoy free Wi-Fi, an arena observation deck that overlooks the fun, coffee (basic flavors and gourmet), bagels, fruits, etc. Our Tiki Café has seating with a large screen TV and a safety monitor TV to keep an eye on the arena. We also have magazine and book racks to enjoy while you are here.
Birthdays are our specialty!
All of our birthdays include:
• Attendant for your party (they will set up/clean up/load gifts/write who gifts are from, etc.)
• e-invitations
• 2 hours 15 minutes (1.5 hours in the arena and 45 minutes in your private room)

• Table set ups (table cloth, paper products, utensils)
• 1 water & 1 juice box each
• 2 slices of pizza per child
• 1 ice cream cup each
• T-Shirt for the birthday child for all to sign
• Bag of cotton candy on the way out

• Group picture can be emailed or print out for a small fee $1.00.
• Prize Cube
• 1/2 off next visit for each child
Themed birthday parties!
Party themes include tea party, American Girl party, teddy bear party, Luau, pirate party, sports party (football, soccer, hockey or basketball), diva party, princess party, pajama party. Themed parties must have at least 10 children in order to fully incorporate the games.