Hezlberg Diamond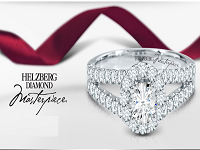 A Collection Of Pure Perfections
At Hezlberg Diamond in NC, they offer jewelry collections for children, men, and women. Different styles of rings, bracelets, pendants, and earrings are offered at such an affordable price that will suit your convenience.

You can choose from their wide selection of jewelries from birth stones, crystals, diamonds and many more, because at Hezlberg Diamond in NC, you will surely have the latest and newest trends as your choice of jewelries. Visit the store now and find the best collections that you would want to have.