Jocks & Jills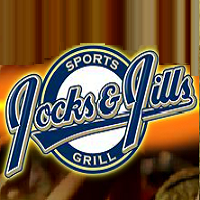 Watch Your Game Anytime, Anywhere
The best place to hang out with your friends is always at Jocks & Jills in NC. There are plenty of TVs outside and quite a bit of outdoor seating serving the best foods and drinks, it is definitely a great sports bar. They are the best place that you can find in town to watch the sports game.

Grab a cheap drink and enjoy watching your sport games during their regular hours daily from 11 am to 12 am Mondays through Saturdays and on Sundays from 11 am to 11 pm. Don't waste your time searching for a good sports bar, always check out the best at Jocks & Jills in NC.