Scattered the Clown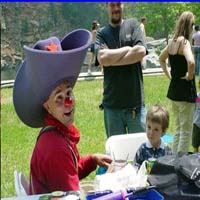 The excitement begins when he arrives!
His Name is Scattered the Clown and he has been clowning around Charlotte North Carolina for over 15 years. The excitement begins when he arrives! He starts out with everyone's favorite, BUBBLES! Being a clown, he has to have the coolest of toys. Battery operated bubble blowing wands, is one of them. Finally, bubble blowing made easy! Next you will move on to face painting.

There are several characters to choose from Rob-The-Builder (Bob's Cousin), Scattered The Clown, Texas Pete The Rodeo Clown, Tommy The Train Engineer, One-Eyed Waylon The Pirate, Hairless Potter The Magician, Uncle Sam or Spidey-Guy, Brett Gordon. He also offers stilt-walking. Cash, Visa, and MasterCard accepted.