The Rock House Cafe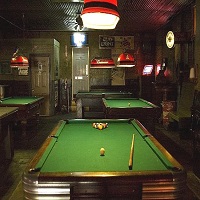 It's All In The Place
A very friendly atmosphere and a set of sport equipment is what The Rock House Cafe in NC can offer you. Besides the exceptional staff, food, drinks, and playing equipment, it is totally a nice pool hall to hang out with friends and a perfect place to watch all your favorite sporting events.

Visit the place during their regular hours from 4 pm to 2 am every Monday through Saturday and Sundays from 12 pm to 2 am. You can also check their weekly calendar for more updates.