Ubi the Clown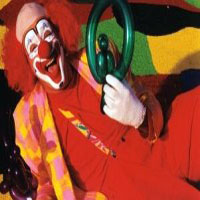 An Ubiquitous Clown!
Since 1991, Ubi has been involved in hundreds of performances, shows, celebrations, events and festivals, performing comeic juggling, clown magic, and balloon twisting. It all began as a Halloween costume back in 1991 and ended up to be a local entertainment phenomenon. Ubi is short for "Ubiquitous," it's the quality of seeming to be everywhere at the same time. The person behind Ubi, John Hogan, is a student of the Dramatic Arts.

Ubi the Clown lives in Goldsboro, NC, and frequently travels to Pittsboro, NC, and works in Raleigh, Chapel Hill, Durham, and all the towns around Goldsboro. He also entertains at festivals, family reunions, street fairs, and all kinds of events where people want to have a good time.