Uptown Cabaret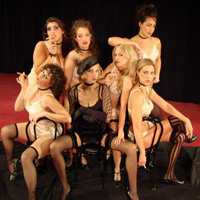 Perfect Variety Theatre
The atmosphere is very relaxed and laid back. A nice cabaret with water taps on the ends of it (self-service water). There is a lounge area with a couple nice couches in the back by the stage.

Uptown Cabaret is spacious with really comfy seated and leather couches - it will remind you of a hunting lodge or something like that. It's relaxing and great in that way. Also, there isn't much else in the neighborhood so this cabaret is definitely a welcome and needed addition.